How Much Does Mercedes-Benz Service A Cost?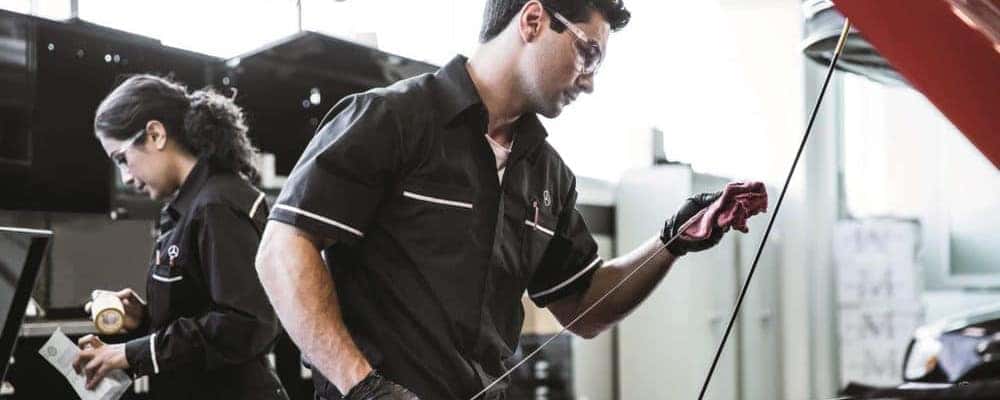 To maintain the intricate machinery that goes into your Mercedes-Benz vehicle, regular maintenance is a must. Mercedes-Benz Service A* is one vital portion of keeping your Mercedes-Benz in top shape and traveling Laguna Beach longer, but how much does it cost? Find out what you can expect to pay for your Mercedes-Benz Service A at Fletcher Jones Motorcars!
Mercedes-Benz Service A Price in Newport Beach
Mercedes-Benz Service A costs can vary due to a variety of factors, such as the model you drive. At Fletcher Jones Motorcars, the price of Mercedes-Benz Service A cost starts at $180 for the B-Class, moves up to $250 for the CLA and C-Class, and then goes up from there depending on the model. For a specific quote for the exact model you own, contact our service center, and we can provide our most up-to-date pricing!
What Maintenance Does the Cost of Service A Cover?
While the price may vary, Mercedes-Benz Service A maintenance and repairs** remain the same and include:
Mercedes-Benz Synthetic Motor Oil Replacement**
All fluid level checks and corrections are dependent on factory-recommended service intervals for your vehicle's year and model
Tire inflation check and correction
Reset maintenance counter
Need help keeping on top of your Mercedes-Benz recommended service intervals? By using the Mercedes me app, you can track your future service appointments and keep vehicle reports to stay on top of your maintenance!
Mercedes-Benz Service A Perks
When you entrust the Fletcher Jones Motorcars service center near Corona Del Mar with Mercedes-Benz Service A, your vehicle will be getting more than just the standard once-over found at many Orange County chain locations. Here are a few advantages of seeking service at Fletcher Jones Motorcars:
The certified technicians at Fletcher Jones Motorcars specialize in Mercedes-Benz models and work on them day in and day out. Should your model experience an issue, our technicians have the expertise needed to quickly and accurately address the problem and get you back on the roads of Huntington Beach.
If you need a part replacement, like the O ring on a Mercedes-Benz oil filter, we only use genuine OEM parts. These parts not only fit your Mercedes-Benz like a glove, but they're also created to meet the exacting standards of the brand, so you know they're built to last.
We have the state-of-the-art equipment needed to take care of any other maintenance needs for your particular Mercedes-Benz model. Explore your vehicle's maintenance manual for the full maintenance schedule.
We offer Mercedes-Benz Prepaid Maintenance Plans for added convenience and savings!
Schedule an Appointment for Service A at Fletcher Jones Motorcars!
If your Mercedes-Benz is due for Service A, schedule an appointment at Fletcher Jones Motorcars' service center near Costa Mesa. Or, if you're in a hurry, stop by our Express Service lane for immediate service, no appointment necessary!
**2009 and newer Mercedes-Benz vehicles only. Price advertised for Service A/Service B includes all factory required components. Please refer to your maintenance booklet for the complete list of factory-required services and details on the specific intervals for your vehicle's year and model.
^Oil and filter change is the base advertised service component. Additional services as determined by your vehicle's ASSYST Plus system, which calculates service needs based on your driving habits, time, mileage and environmental conditions, may increase service cost."