Team Member Spotlight: Alex Rabe – Scholarship Winner
Congratulations Alex!
We are always proud to highlight our stellar team members and celebrate their accomplishments. Let us introduce you to Alex Rabe, a Certified Mercedes-Benz Technician here at Fletcher Jones Motorcars and a recent recipient of The California New Car Dealers Association Scholarship.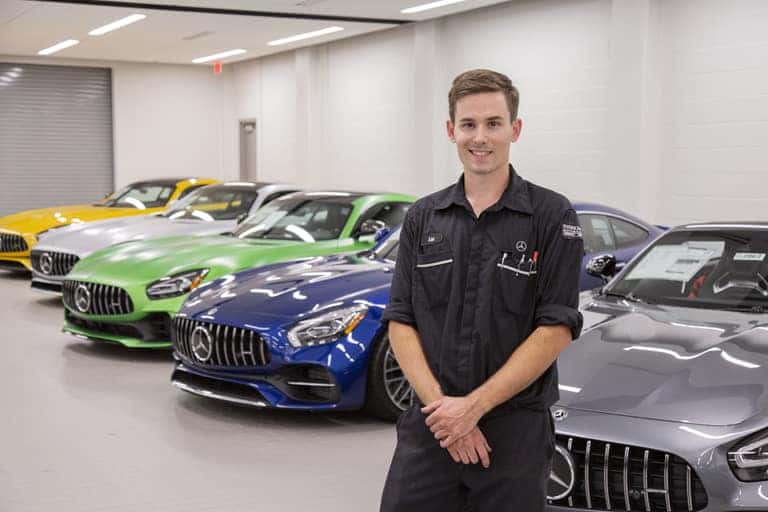 Since 1995, the Foundation has awarded scholarships to students who are enrolled in automotive technology and automotive management programs. On August 27, Alex along with 141 others were awarded scholarships totaling $109,667. For more information about The California New Car Dealers Association Scholarship Foundation, please visit: https://www.cncda.org/about/foundation/
When did your love for cars begin?
I started working on cars when I was 17, at a local tire shop. I loved the way I got to work with my hands and working on different cars, makes and models but I particularly like Mercedes.
What do you love most about your job?
I love the variety; I never know what I'm walking into, it could be something I have to diagnose or something quick I can help a guest with.
What does winning this award mean to you?
This award will help me out greatly in continuing my education outside of work so that I can carry on learning as much as I can about working on cars.
What advice would you give future techs?
Don't be afraid to make mistakes, everybody does. Just try to mitigate them and find the best ways to figure out your faults. Work on improving every day no one is perfect, but you have to start somewhere.
We strive to create an atmosphere where our team members accept challenges, are inspired to make a difference, and deliver 5-star service consistently. Congratulations Alex, your achievement is truly one to be proud of. If you are driven to excellence, we want to hear from you. Apply today!