Learn More About The 2020 GLS Design

Seating for YOU
Looking to take the family to dinner at Diamond Jamboree in Irvine, but questioning how everyone will fit in the car and how comfortable will they be? The new 2020 GLS seating is designed with your family in mind with two seating configurations to choose from. There is the 2+3+2 layout or the 2+2+2 where the second row features two individual seats with arm rests and an aisle to the 3rd row for guests to easily head on back. Speaking of room, say goodbye to the last row being crammed and hello to a new design that accommodates a person of up to 6'4," which means each of your guests will enjoy a comfortable ride.
Space for YOU: Cargo and Charging
If a shopping day at South Coast Plaza in Costa Mesa is calling your name and you need the space to fit your shopping bags, you may simply press a button for the rear seats to fold down to allow for the room you need. In addition, you will find that the new 2020 GLS includes 9 USBs Type-C (3 in the front, 2 in the 2nd row, 4 in the 3rd row), because who doesn't need a charge? The 2020 GLS seats were designed meet everyone's needs.
LED Intelligent Light System with ULTRA WIDE Highbeams and Adaptive Highbeam Assist
At night, the LED Intelligent Light System with ULTRA WIDE High-beams and Adaptive High-beam Assist provide expansive lighting for the driver. The Active curve illumination and ULTRA WIDE High-Beams means the headlights cast more light on what is further ahead and the surrounding than ever before. Drivers of the GLS will have more visibility at night with this newest development in high-beams.
Automatic Car Wash Mode
We know cars get dirty and the 2020 GLS introduces a new way to do the car wash. All you have to do is say, "Hey Mercedes, car wash mode." The car will automatically fold in the exterior mirrors, display the status of side windows and the sunroof and turn off the windscreen wipers. The suspension moves to the highest position to allow for an easier drive through the car wash. Then, simply accelerate to 12 mph or more to deactivate car wash mode and you have a clean 2020 GLS.
Five-Zone Automatic Climate Control
The new 2020 GLS offers a five-zone automatic climate control to give each passenger the ability to choose the temperature they want.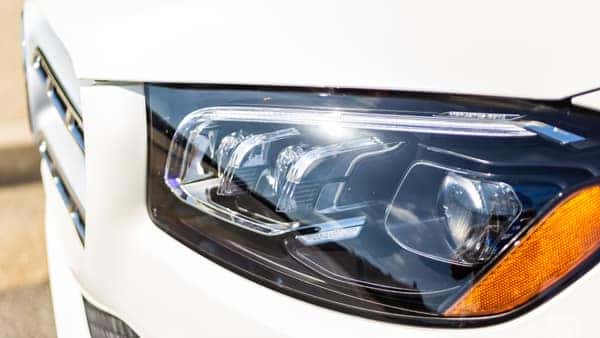 Ready to Experience the 2020 Mercedes-Benz GLS?
Schedule a test drive or browse our 2020 GLS inventory at Fletcher Jones Motorcars, and experience the sleek design of the all new GLS for yourself. We are conveniently located near Costa Mesa and Irvine in Newport Beach.