What is Mercedes-Benz ATTENTION ASSIST®?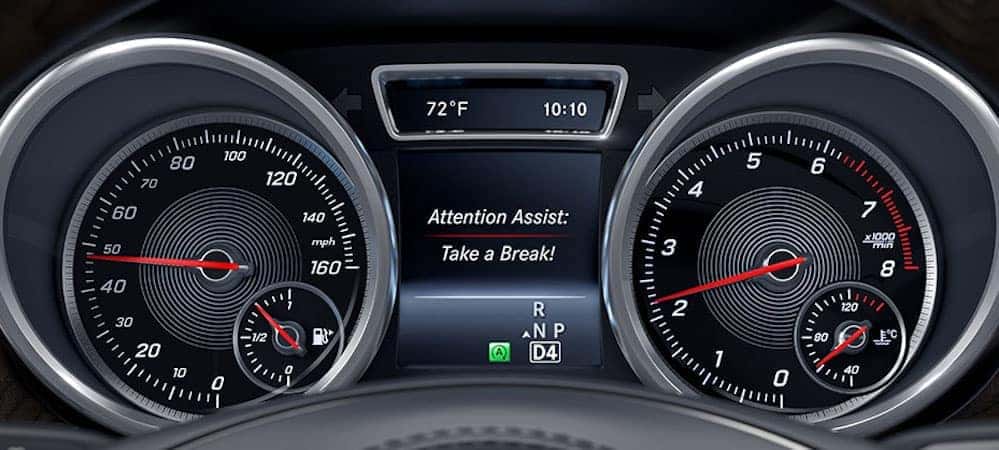 ATTENTION ASSIST® gives Costa Mesa drivers added peace of mind during long trips, as well as during their daily commutes to work in Irvine. Learn more about how Mercedes-Benz ATTENTION ASSIST® safety technology works, along with which new models offer it, from the team at Fletcher Jones Motorcars.
How Does Mercedes-Benz ATTENTION ASSIST® Work?
An industry-first by Mercedes-Benz, ATTENTION ASSIST® uses a sensor and detailed algorithm to detect fatigued driving behavior. See how it works below:
ATTENTION ASSIST® analyzes driving behavior in the first few minutes of your ride and assesses your personal driving techniques using over 70 parameters.
While you are driving in Huntington Beach, ATTENTION ASSIST® identifies certain steering corrections that indicate drowsiness and fatigue. ATTENTION ASSIST® also considers external factors, including road conditions, crosswinds, and your interaction with vehicle controls.
After considering these external factors, ATTENTION ASSIST® will send you an alert that suggests you take a break from driving if it determines that your driving behavior is due to fatigue.
What is the Benefit of Mercedes-Benz ATTENTION ASSIST®?
With ATTENTION ASSIST® in your Mercedes-Benz, you can have more confidence in the safety of yourself, your passengers, and other drivers on the road in Newport Beach. Southern California is full of stunning destinations, but when you're on a long journey, it's possible for fatigue to set in. Driver fatigue causes your attention level to fall, increasing the risk of a serious accident in Orange County. If Mercedes-Benz ATTENTION ASSIST® detects even a slight chance of drowsiness, you'll see the coffee cup dashboard symbol light up and understand that it's time to get off the road and rest for a while.
Which Mercedes-Benz Vehicles Offer ATTENTION ASSIST®?
ATTENTION ASSIST® is offered on most new Mercedes-Benz models you'll find here at Fletcher Jones Motorcars, including these popular options:
Learn More About Mercedes-Benz Safety at Fletcher Jones Motorcars
Contact us to learn more about ATTENTION ASSIST® or other Mercedes-Benz technology features, such as mbrace® and DISTRONIC PLUS®. You can also test out these features for yourself at our dealership! Visit us near Laguna Beach and Corona Del Mar to get behind the wheel with ATTENTION ASSIST® in a Mercedes-Benz model today.