How to Set Up Apple CarPlay® in Your Mercedes-Benz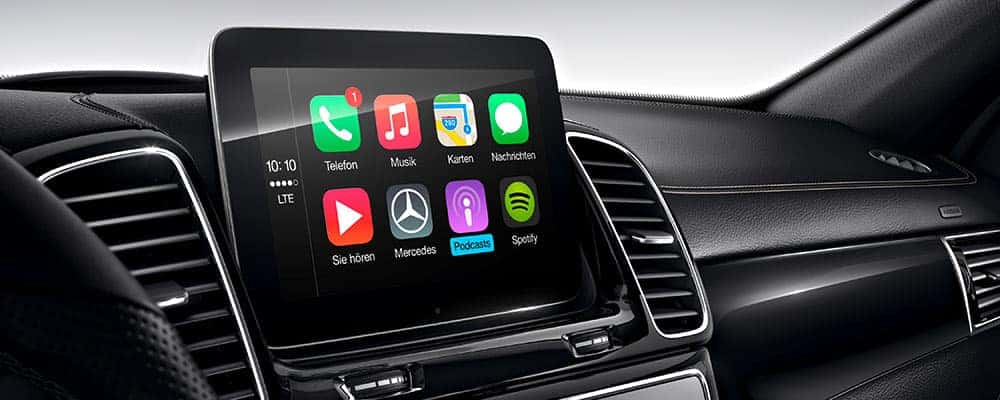 Are you the proud owner of a new Mercedes-Benz like the SLC Roadster? If so, you may be wondering how to set up Apple CarPlay®. Fortunately, it's easy! Here's a quick step-by-step guide:
Using a USB cord, connect your iPhone® to the USB port with the smartphone integration symbol.
If you're connecting to Apple CarPlay® for the first time, you'll see this message: "A new Apple CarPlay® device has been connected. How should Apple CarPlay® be started?" You'll be given a choice between "Automatically" and "Manually."
Choose "Automatically" to make connecting your primary smartphone easier each time you enter your car.
Choose "Manually" if a passenger is connecting their iPhone® to share music, directions to a destination in Irvine, etc.
You can now access your smartphone's functions via the controller/touchpad controller, hard keys, or Siri®.
What Can You Do with Apple CarPlay®?
Once setup is complete, you can use Apple CarPlay® for everything from making hands-free calls, to streaming music, to navigating:
Make Phone Calls: Say the name of your contact aloud, and Apple CarPlay® will place the call for you—no hands necessary.
Dictate Text Messages: Choose a contact, dictate your message, say, "Send," and you're done!
Stay Entertained: Listen to your favorite tunes while you drive, or access apps like iHeartRadio®, TuneIn® Radio, Audiobooks.com, and more.
Plan a Route with Apple Maps: Use Apple Maps to conveniently search for coffee shops, restaurants, theatres, and other points of interest in Orange County.
Quick COMAND® Access: To adjust your seat, in-cabin temperature, ambient lighting, etc., select the "Mercedes-Benz" icon on the Apple CarPlay® screen, or press the appropriate hard key on the dash. This will take you back to the COMAND® system.
Learn More About Apple CarPlay® from Fletcher Jones Motorcars of Newport Beach!
Still have questions about how to set up Apple CarPlay® in your Mercedes-Benz? Contact us at Fletcher Jones Motorcars of Newport Beach! We'll help you configure Apple CarPlay® or put you behind the wheel of a new Mercedes-Benz with smartphone integration. Schedule a test drive near Huntington Beach today!