What is Mercedes-Benz PRESAFE®?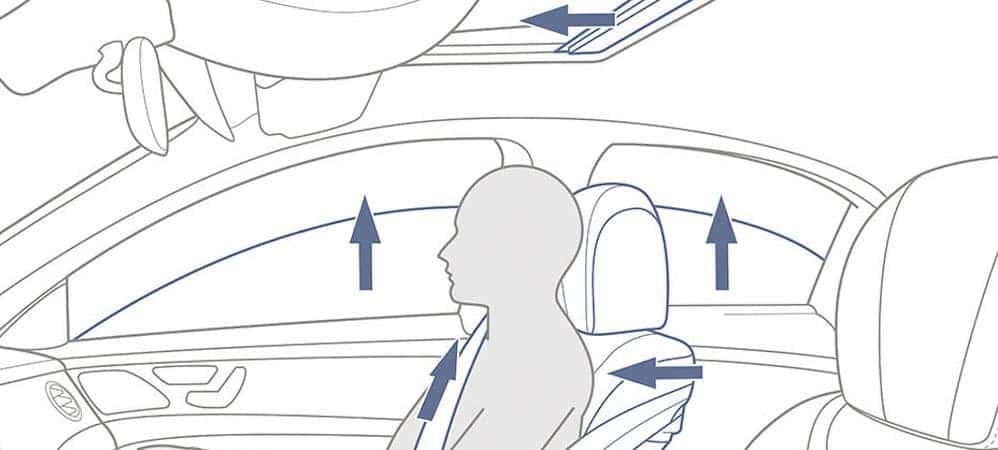 Mercedes-Benz PRESAFE® is one of the brand's most impressive safety features. Using sensor technology, the system can detect the signs of a collision and secure the cabin of your vehicle in preparation. The best part? It's standard or optional for most new Mercedes-Benz vehicles. Learn more about Mercedes-Benz PRESAFE® below and how it can make your trips around Costa Mesa or Laguna Beach safer.
How Does Mercedes-Benz PRESAFE® Work?
The main function of PRESAFE® is to prepare your vehicle for a collision or rollover before it takes place. How does the system sense a possible accident? It uses a series of sensors to detect instabilities associated with the onset of a collision or rollover, such as skidding or swerving. Once the threat is detected, the system immediately comes to your aid by tightening the front seatbelts and adjusting the front-seat head restraints, as well as closing the windows and sunroof to prevent debris from entering the cabin.
Extensions of PRESAFE®
PRESAFE® isn't purely a standalone safety technology; it's integrated into several other Mercedes-Benz driver assistance features, such as:
DISTRONIC PLUS®: This intelligent adaptive cruise control system uses the PRESAFE® Brake feature to slow or stop your vehicle should a straight-ahead vehicle brake suddenly.
PRESAFE® Sound: Like the general PRESAFE® system, this extension activates when an imminent collision or rollover is detected and emits a "pink noise" from the audio system to stimulate a natural reflex reaction in the human ear. This reflex reaction helps to prevent hearing damage.
Additionally, PRESAFE® uses the same sensors as other driver assists from Mercedes-Benz, including Active Lane Keeping Assist, Active Blind Spot Assist, and more.
Which Mercedes-Benz Vehicles Offer PRESAFE®?
Are you interested in a model with PRESAFE®? The following includes the system as standard or available equipment:
Learn More About PRESAFE® at Fletcher Jones Motorcars Near Irvine
Ready to learn more about how Mercedes-Benz PRESAFE® works? Contact us at Fletcher Jones Motorcars to schedule a test drive near Huntington Beach and Corona Del Mar, and we'll put you behind the wheel of a vehicle equipped with PRESAFE®. Don't hesitate to ask about other intelligent driver assists from the brand, including ATTENTION ASSIST® and DIGITAL LIGHT headlight technology.