Mercedes-Benz Dashboard Warning Symbols and Meanings Explained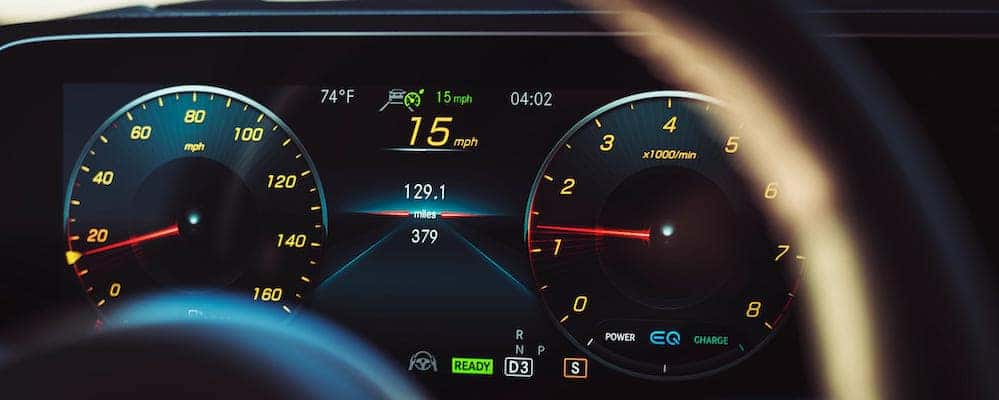 An illuminated warning light is never a welcome sight on your dashboard, but not all warning lights are cause for panic. While some warning lights aren't dire, others symbols like the ABS or check engine light require more immediate attention by Laguna Beach drivers. What's more, there are other Mercedes-Benz dashboard symbols that refer to brand-exclusive features like ATTENTION ASSIST®. Find your Mercedes-Benz dashboard warning lights explained below, courtesy of Fletcher Jones Motorcars.
Common Mercedes-Benz Dashboard Symbols & Meanings
ABS Light
Icon: Circle with "ABS" in the center and one curved line on either side
Meaning: The Anti-Lock Brake System is deactivated. Once this system is off, ESP®, BAS®, Electronic Brake Force Distribution, and Hill-Start Assist will deactivate as well. You'll be able to slow and stop on the Corona Del Mar and Huntington Beach roads, but you won't get the response of emergency braking or traction control.
ATTENTION ASSIST® Light
Icon: Steaming cup on a saucer
Meaning: Often accompanied by a warning tone, the ATTENTION ASSIST® monitors your driving behaviors for signs of sleepiness. This alert means it may no longer be safe for you to drive your vehicle on the streets of Costa Mesa.
Brake Wear Light
Icon: Circle with a dotted line on either side
Meaning: If this symbol is present, it's time to replace the brake pads and/or brake rotors. You'll want to schedule service immediately to avoid vehicle damage and safety hazards.
Battery Light
Icon: Battery with a plus and minus sign
Meaning: This means the battery isn't charging properly. This could be caused by a problem with the electrical system or a malfunctioning alternator or poly-v belt.
Check Engine Light
Icon: Engine
Meaning: The check engine light can signify a variety of issues, including problems with the engine, fuel or fuel injection systems, ignition, or exhaust. The engine can also enter into emergency mode due to high emissions.
Coolant Light
Icon: Red coolant light
Meaning: The coolant level may be too low, or you may have a faulty temperature gauge.
ESC or ESP Light
Icon: Tilting car with wavy lines behind it
Meaning: Electronic Stability Control (previously known as ESP®, Electronic Stability Program) has been deactivated. If you're driving and this appears inside a yellow triangle, that means traction control has intervened due to wheels spinning or a skid risk.
Glow Plug Light
Icon: Yellow coil
Meaning: Glow plugs heat the cylinders inside a diesel engine. When this light is on, the glow plugs are in the process of heating the cylinders.
Light Bulb
Icon: Light bulb
Meaning: A lightbulb has failed.
Steering Wheel Light
Icon: Steering wheel with an exclamation point next to it
Meaning: The power steering isn't working. You'll need to be forceful in operating the steering wheel until it can be repaired.
Have Your Mercedes-Benz Dashboard Warning Lights Checked
Now that you've seen the most common Mercedes-Benz dashboard warning lights explained, feel free to contact us with any additional questions. The expert team at our service center is happy to go into detail about the Mercedes-Benz dashboard symbols and meanings, as well as diagnose your vehicle and complete any necessary service or repairs. Browse our service and parts specials for savings on your service at Fletcher Jones Motorcars in Orange County!