Inside the Mercedes-Benz A-Class: Learn About MBUX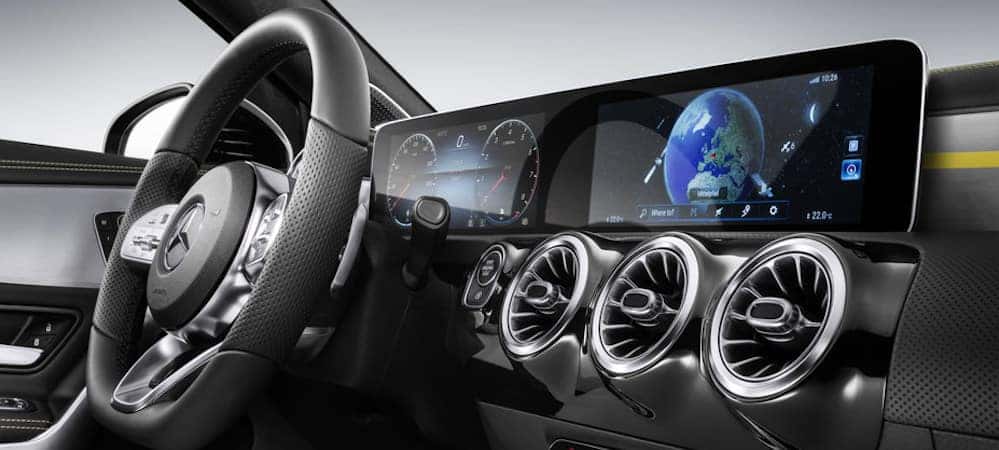 In January 2018, Mercedes-Benz debuted its new infotainment interface and in-car voice-activated assistant, MBUX (which stands for Mercedes-Benz User Experience). Standard on the new A-Class, the MBUX is designed to make your driving experience easier and more enjoyable. Learn more about this new technology feature from the team at Fletcher Jones Motorcars.
Simple & Intuitive Interface
MBUX is intuitive and easy to use! The infotainment system puts the many features you frequently use, such as the navigation route to your home, weather information, and your favorite radio station, right on the main menu.
Intelligent Voice-Powered Feature
The voice-powered feature is activated when you say, "Hey, Mercedes-Benz," or press a button on the steering wheel. MBUX can answer your questions and allows you to phrase your requests in a natural, conversational manner. For example, if you want to change the temperature in your car, you can simply say, "Hey Mercedes-Benz, I'm cold," and MBUX will turn the heat up by a couple degrees in response.
MBUX Can Learn
Due to MBUX artificial intelligence, MBUX has the ability to learn and form a connection with its drivers. Over time, MBUX will learn your preferences from your profile, along with patterns in behavior, and offer you suggestions, including recommended destinations, comfort settings, and music.
Learn More About MBUX & Other Mercedes-Benz Features at Fletcher Jones Motorcars
If you are interested in learning more about MBUX or other features on the Mercedes-Benz A-Class, contact our team at Fletcher Jones Motorcars today. You can also visit us in person to browse our inventory of new vehicles and experience these Mercedes-Benz technology features for yourself. Our dealership is just a short drive from Irvine and Costa Mesa!