How to Unlock Your Door With Your Mercedes-Benz Blade Key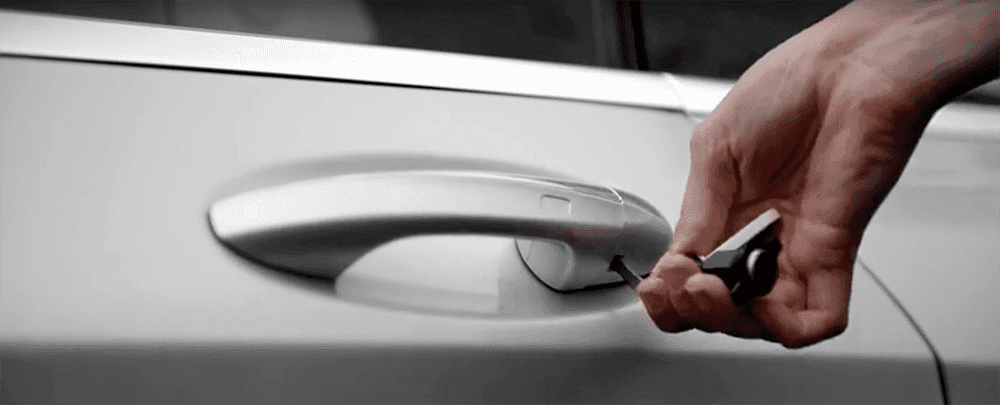 Nothing is more inconvenient than a dead car key battery when you need to get somewhere. Luckily, there's more than one way to unlock your Mercedes-Benz. Fletcher Jones Motorcars breaks down how to access your Mercedes-Benz blade key and how to unlock your door with the blade key below!
Learn How to Unlock Your Mercedes-Benz With Your Blade Key
Video Transcription:
Imagine your key or car battery died and you need to get into your car. Hi, my name's Alex Dixon with Fletcher Jones Motorcars, and today we're going to be discussing the Mercedes-Benz blade key. To release the blade key, pull back the switch located at the bottom end of the key fob. Then, gently pull out the blade key. In our sedans, there is a visible key slot located on the driver's side door handle. Our coupes have the same mechanism, but it's stylishly hidden from view.

To access the mechanical lock, find the small slot located underneath the door handle. Make sure that the end piece of the blade key is pointing away from the car door, so that you do not scratch it. Take the blade key, and press it into the slot. Then, pull the blade key away from the door. The end cap will release and expose the mechanical lock. At this point, you can insert the blade key and turn it 180 degrees. You can now enter your car. The blade key can also be used to lock and unlock your glove box.

Thanks for watching! For more videos, please subscribe to our YouTube channel […] and like us on Facebook. If the car of your dreams is not the car in your garage, then we should talk.
Get More Helpful DIY Tips from Fletcher Jones Motorcars
For more helpful tips, including how to clean leather seats, how to set up Apple CarPlay®, or how to change the key battery in your Mercedes-Benz key fob, contact us at Fletcher Jones Motorcars. If you decide to visit us in person, be sure to ask about our service specials while you're here! We're just a short drive from Laguna Beach and Costa Mesa.