Exploring the 2021 Mercedes-Benz GLA With Scott Ribble
Scott Ribble with Fletcher Jones Motorcars in Newport Beach, CA introduces us to the new second generation 2021 Mercedes-Benz GLA in his 2021 Mercedes-Benz GLA 250 SUV Walkaround – Fletcher Jones Motorcars video. This walk around video was made possible by the arrival of the latest compact SUV to our location near Huntington Beach, CA.
Did You Know?
The original Mercedes-Benz GLA was a great success and pioneered the compact luxury SUV segment. If you are driving down the 73 South or Jamboree in Irvine, CA, you'll most likely spot one, two, three or even more! Shop the 2020 GLA or 2021 GLA online today with us.
The New Generation Has Grown Up
3.5 inches taller

1.2 inches wider

1.1 inch longer wheelbase
Plus, the 2021 Mercedes-Benz GLA SUV demonstrates a more confident, more SUV like appearance. You'll be turning heads on Orange County roads when you're behind the wheel of the latest GLA SUV.
The 2021 GLA SUV profile features cleaner lines to create a more contemporary, purposeful appearance. The LED tail lamps are modern and horizontally mounted. They look fresh and are instantly recognizable as a signature aspect of Mercedes-Benz new SUV design language.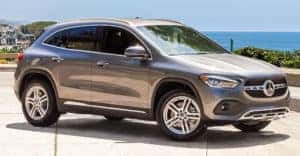 You'll find this compact SUV produces a total of 221 horsepower and 285 lb-ft of torque. The power is routed through the superb 8-Speed Dual Clutch Transmission and allows the GLA SUV to go from 0 to 60 miles per hour in 6.8 seconds. The Costa Mesa freeways won't be ready for you and your new Mercedes-Benz SUV.
The interior of the GLA SUV is dominated by quality materials, high-tech controls, and clean design, like:
Rear Cargo Area –

50.5 cubic feet of storage capacity and comes standard with foldable rear seats to accommodate active lifestyles

Mercedes-Benz User Experience (MBUX) – Welcome to the world of "Hey Mercedes" with Natural Language Understanding Voice Assistant.

Dual 10.3 Inch Screens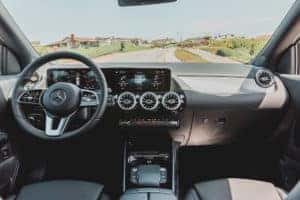 Contact us today at (949) 718-3000! Our Fletcher Jones Motorcars team in Newport Beach, CA looks forward to assisting you on your Mercedes-Benz journey.