What is Mercedes-Benz Car-to-X Communication?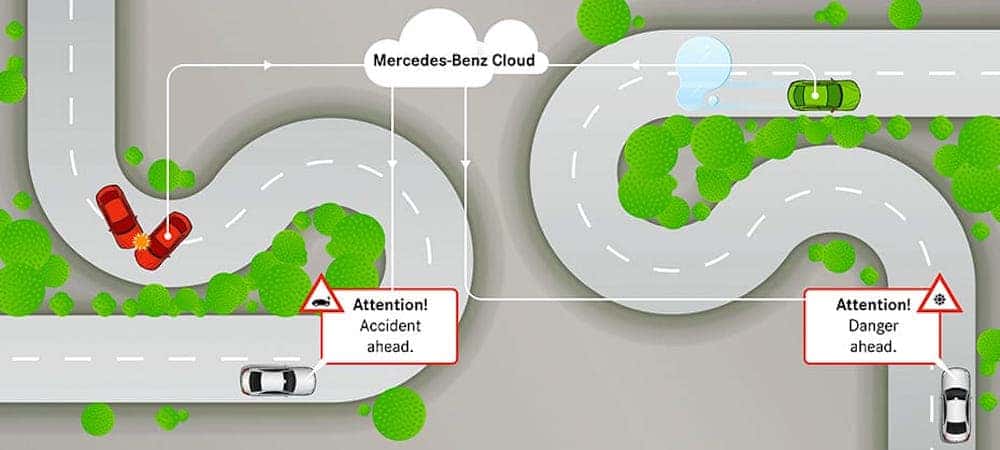 Thanks to the Mercedes-Benz innovative car-to-car communication system, known as Car-to-X Communication, Costa Mesa and Laguna Beach drivers no longer have to be surprised by what lies in the roads ahead. By communicating with other Mercedes-Benz vehicles and traffic structures, you can be alerted to potential issues on the roads around Irvine. Learn more about this Mercedes-Benz technology, and then try it out at Fletcher Jones Motorcars.
How Car-to-X Communication Works
The easy Car-to-X Communication works completely autonomously, which means it doesn't require input from you or other drivers to work. Giving you information outside of your range of vision, this car-to-car communication system operates in the following ways:
Information is exchanged between vehicles and traffic infrastructure, like traffic lights, via radios around Huntington Beach.
Mercedes-Benz vehicles with Car-to-X Communication also send warnings and alerts to other drivers all on their own.
The vehicle will receive a hazard warning and compare the hazard's location to that of the vehicle.
When approaching the hazard, audible and visual alerts are transmitted to the driver, so that they can prepare for the situation or adjust driving patterns.
Car-to-X Communication Information
This advanced car-to-car communication system provides Orange County drivers with a bounty of useful information while navigating the roadways. From saving time to helping prevent accidents, Car-to-X Communication will provide drivers with the following information:
Notifications of emergency vehicles approaching and from which direction
Warnings of wrong-way drivers
Notifications of accidents
Alerts to locations of heavy traffic congestion
Benefits of a Car-to-Car Communication System
Mercedes-Benz Car-to-X Communication supplies drivers with critical information they would otherwise be lacking during their drive. Having early access to this information means drivers can:
Be alert to emergency vehicles and pull to the side of the road
Change course to avoid time lost in traffic jams
Stay alert to potential causes of accidents
Make the roads more efficient, as avoiding accidents allows traffic to flow more freely.
In addition to these benefits, Mercedes-Benz is working with other dealers to expand the Car-to-X Communication network for a more connected road system. They are also releasing Drive Kit Plus to integrate the system with the customer's iPhone.
Learn About More Mercedes-Benz Technologies at Fletcher Jones Motorcars
Mercedes-Benz strives to bring shoppers around Corona Del Mar technology to maximize convenience and boost safety while they're behind the wheel. Experience more of these technologies, such as PRESAFE® and DISTRONIC® PLUS, at our Newport Beach showroom. Try out these features for yourself when you set up a test drive of a new Mercedes-Benz today!