Eric Smith's Drive to Fletcher Jones Motorcars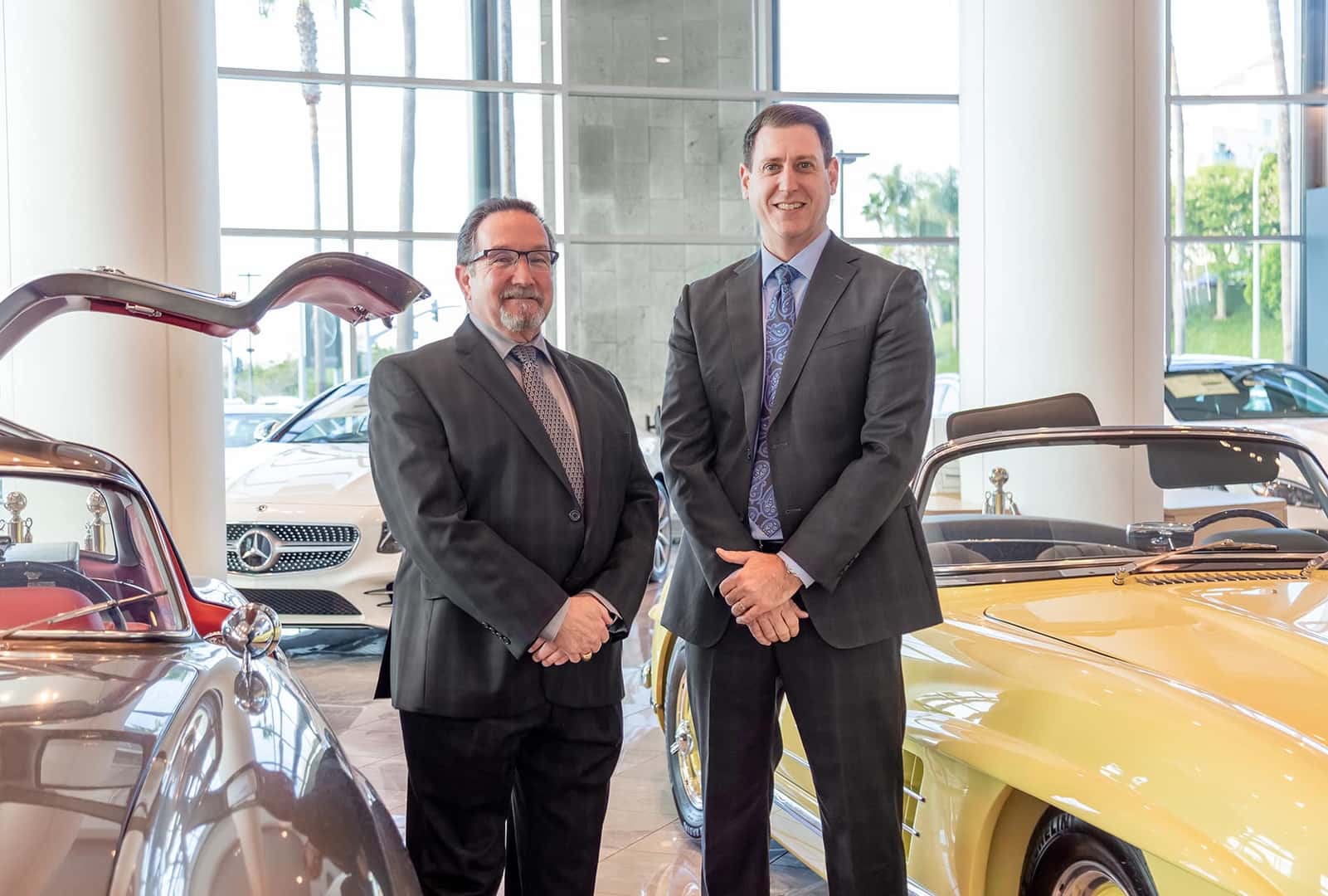 Bob Evans, who has served as the Service Manager for Fletcher Jones Motorcars during his 45 years tenure with the company, is handing the keys over to Eric Smith. You'll still see Mr. Evans as he takes on our Customer Focus initiatives in his new role with the company as the Guest Experience Director. Bob's expertise, along with your feedback, has led to Bob taking on this new role to enhance your future experience with Fletcher Jones Motorcars. Congratulations Bob and welcome aboard Eric.
Eric is ready to start the engine and this is not his first time behind the wheel. At eighteen, he was a Sales Representative for Nissan. At twenty-four, Eric's journey placed him in the sales arena, including Finance, Used Cars and Sales Management. He would go on to reroute his career to focus exclusively on service as he, "enjoys how service means you interact with guests more frequently, which provides a platform to build genuine relationships."  After 15 years of service experience with Mercedes-Benz, this led him to Fletcher Jones where he successfully ran the Service Operations for our Flagship, Audi Beverly Hills
Why Fletcher Jones?
Being in the automotive industry for years, Eric was drawn to the excellent reputation of Fletcher Jones Automotive Group, specifically the way we care for our guests. Eric states, "You take care of your guests first and that allows everything else to fall into place." After his time in Seattle, Washington and moving to Southern California, he made the decision to join our sister store, Audi Beverly Hills. Despite being unfamiliar with Audi, his desire was to work with Fletcher Jones. Eric explains, "I was pushed out of my comfort zone, but you can't be afraid of change." His attitude towards change is driving the evolution for our never ending dedication to refining our guest experience.
Eric's Favorite Mercedes-Benz
The 1968 300se Convertible. He dreams of driving his daughters down PCH in this classic car.
Eric's Message to Our Guests:
"Yes, we are #1. No, this is not where we stop. We are constantly looking for and designing new tools to customize the guest experience even further, just like how Mercedes-Benz created a customizable experience with MBUX." Eric and his team are here to support our guests wherever our guests feel they need support.
Next time you're in for your service or repairs for your Mercedes-Benz, come and say "hi!"
Need to schedule a service for your Mercedes-Benz?
Please reach us at (949) 718-3200 or simply schedule online! Don't forget to check out our service specials.