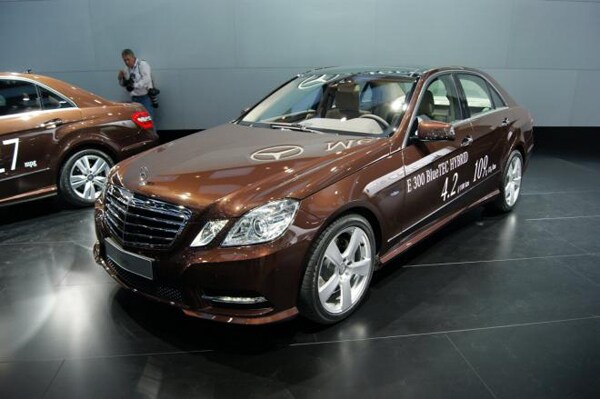 Mercedes-Benz has revealed two
E-Class
hybrids at the North American International Auto Show in Detroit.
Set to launch for Europe sometime in 2012, the E300 BlueTEC HYBRID uses the 4-cylinder diesel engine found in the E250 CDI. It produces 204 PS (150 kW / 201 bhp) and 500 Nm (369 lb-ft) along with a 20 kW electric motor producing 250 Nm (184 lb-ft) - that's a combined torque figure of 750 Nm (553 lb-ft) of torque! The result is the most economical luxury-class vehicle in the world, according to Mercedes-Benz, that hits a top speed of 242 km/h (150 mph), accelerates from 0 to 62 mph in 7.5 seconds and consumes only 4.2l/100km (67.2 mpg UK) with CO2 emissions of 109 g/km.
For launch in North America in 2012 and other countries such as Japan and China later, the E400 HYBRID has a V6 gasoline engine that produces 302 hp (225 kW / 306 PS) and 273 lb-ft (370 Nm) plus an additional 184 lb-ft (250 Nm) from the same 20 kW electric motor in the E300 BlueTEC HYBRID. The consumption figures based on the American CAFE standard are: City 24 mpg, Highway 31 mpg, Combined 27 mpg. 0 to 60 mph takes 6.7 seconds and top speed is 130 mph (209 km/h).
Both hybrid models are available as sedan while the wagon variant is available for the E300 BlueTEC HYBRID in Europe. Both utilize lithium-ion batteries, start/stop function, regenerative braking, boost effect, purely electric driving and a "sailing" function where the combustion engine switches off under certain conditions.
"With these two E-Class models we are now continuing our comprehensive hybrid offensive. The modular technology opens up a quick way for us to complement other model series with hybrid models", explains Professor Dr. Thomas Weber, Daimler Board Member for Group Research and Head of Mercedes-Benz Cars Development. "With a clear focus on the different requirements of the global markets, we are able to offer precisely the models which our customers want. The E-Class hybrids provide a clear reduction in consumption as well as a very impressive driving experience: they represent hybrid motoring at the premium level."
The E-Class hybrids join the
S400 HYBRID
in Mercedes-Benz hybrid offerings.
Source:
http://www.worldcarfans.com/112010939562/mercedes-benz-launches-hybrid-offensive-with-e400-and-e300#ixzz1jO4o2Jsw