---
The American Cancer Society Orange County Region is pleased to announce its continued collaboration with Fletcher Jones Motorcars of Newport Beach. The Nation's number one Mercedes-Benz dealership and the Nation's largest non-government, not-for-profit funder of cancer research have always kept customers - a top priority. As part of the collaboration, messages about the More Birthdays campaign will continue to be displayed and distributed throughout the Newport Beach dealership to help customers better connect with the Society and understand all it has to offer in the fight against cancer. Most importantly, customers visiting the dealership's service department, where staff will sport American Cancer Society lapel pins, will receive valuable information about the Society's free programs and patient services that they or a family member might one day need.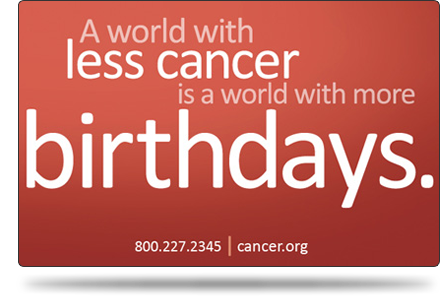 "We're committed to steering the fight for every life threatened by every cancer, in every community. We look forward to sharing with others what the Society is all about and all it has to offer - from free patient services and programs for any one to an informative website to a hotline where people can call any time, day or night with questions about cancer," said Stephen Browning, vice president of American Cancer Society Orange County Region. "It's another step towards creating a world with less cancer and more birthdays."


In an effort to help broaden consumer understanding, "The Official Sponsor Of Birthdays" campaign asks audiences to imagine a world with less cancer and more birthdays, and highlights all of the ways the organization

saves lives

- by

helping people stay well

through taking steps to prevent cancer or detect it early;

helping people get well

by guiding them through every step of the cancer experience; by

finding cures

through funding and conducting groundbreaking research; and by

fighting back

by encouraging lawmakers to do their part to defeat cancer and by rallying communities to join the fight.

"Unfortunately, many of us have been or know of someone touched by cancer. This is why the partnership with American Cancer Society is so important as we continue to fight this terrible disease in our community," said Fletcher Jones, Jr., owner of the Nation's number one Mercedes-Benz dealership. "We want to help make a difference by supporting the Society's efforts to raise awareness of its lifesaving resources and patient services available to our customers."

For more information, please contact Corrine Castillo at 949-567-0628 or Corrine.Castillo@cancer.org
.